TRIBUTES
In Memory of alumnus Swanzy Elliott
OLF Class of 1971
Swanzy was laid to rest on Saturday, May 15, 2004.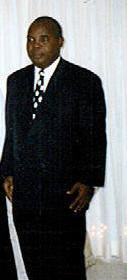 Ode To Swanzy
I just heard Swanzy, this very modest and humble man is going home.
What a dreadful day?He had a disarming charm about him; so, he was easy to befriend.
He had the keenest intellect, which he used to lift others.
He was shy, yet passionate about life and about others.
He saw his place off center stage, just so others would shine.
He sought no rewards, yet he left the world better than he met it. He was a true gentleman and a faithful son.Fare well, dear Swanzy! You were a star to our generation.
Elliott Wreh-Wilson
----------------------------------------------------
Tributes
An Expression of Heartfelt Sympathy.

May all the memories your love one left behind, fill the emptiness within your heart with thoughts of the fondest kind, to help you through this time of deep and painful sorrow, by giving you strength to face each new tomorrow.
Annie Wright
------------------------------------------------------------------------------
I first met Swanzy as a young lad, leaving the security and comfort of my mother for the uncharted boundaries of higher education. I can vividly recall walking up Catholic mission hill one balmy Sunday afternoon, frightened of the unknown. As I approached the dorm with my suitcase in hand, I was greeted by a very soft-spoken and shy man. "Welcome! My name is Swanzy Elliott; I am your Prefect and I am sure you will enjoy your stay here". Those words marked the beginning of what I consider to be the best years of my adolescence. Thank you for your gentleness and guidance. You will always be remembered. May your soul rest in perpetual peace.
To my brother James and the rest of the family, take comfort in knowing that Swanzy is in a better place. My thoughts and prayers are with you.
Phil Merriam
----------------------------------------------------------------------------------------------
May it be a help and comfort in the sorrow that you bear to know that you're remembered in every thought and prayer.
With sincere sympathy,

Ed Hall
----------------------------------------------------------------------------------------------
It is too hard to condense Swanzy's death. I was extremely shocked when I heard about his home going. Today, I remain in a state of daze and cannot stop thinking how the cold hands of death have taken away such a great father, brother, cousin, uncle, and most of all a dear friend. If Swanzy did not have any money to give anyone, his beautiful smile made one to forget whatever it was that you wanted to say. Boy! Liberia has lost a great son. Fatima has also missed one of her most brilliant students, who willingly accepted the chellange to continue to live in Liberia for the prupose if helping to bring in a new day.

During his last visit to the States, We were at a get together at his brother's house, I asked him why was he not living in the States. His response to me was, "Addy, I want to be at home to help fix it for you; so that when you come back home, you would be confortable." I was so moved, he was my dancing partner for the rest of that evening. I am happy that I gave him the time. I will miss him so dearly as he was a person of interest and wisdom. We as family and friends have to prepare ourselves by thinking highly of one another, being respectful to each other and most of all look out for each other.

Finally, May we look upon the life of Swanzy and try to do more than is expected of us, and may his family find solace in the good life that he lived.

Addy Worlonyene Mensah
----------------------------------------------------------------------------------------------
SRN ELLIOTT: How sad and shocked I was when I got the news about your sudden passing. After wiping away the tears and calming myself down, I began to take a brief journey down memory lane.
I began to remember the animated debates on various topics. Yes, I vividly remember your ability to memorize Biblical verses. You then utilized those skills to represent our School during contests with the other Schools in
Cape
Palmas
. I guess it must have been an inherited trait, but I can visualize the joy you exhibited when issues of politics came into play. (You even worked in this arena in later life - talking about being true to your calling).
Continuing on my journey, I now reflect upon the fun we had on Campus after classes. Dining Hall was a riot during the earlier years when each and everyone in the lower classes tried to outdo the other person when the Senior Leadership recognized us to express our views. Oh, let's not forget Study Hall also. We were supposed to be engrossed in our school work; however, we still found time to have some fun.
Upon further reflection, I realized that it was not always playtime. We engaged in some serious moments also. I especially remember our Senior year when you became Prefect and I was the Assistant Prefect. Talking about the Fox being in the chicken coop. Yes, we took our responsibilities very seriously - - i.e monitoring and controlling Dining Hall, Study Hall, and all of the privileges and prestige that came along with those positions. Even though it was 1971, I can still feel the disappointment I experienced when I was "thrown" off Campus, because I did not follow some of the "rules" of the House. Yes, it was a long time ago, but I can remember feeling that I let you and the rest of our classmates down also.
We had the agenda set for our Administration, but I could not be on Campus to implement our plans due to my youthful indiscretions. I can still remember the support and words of encouragement you offered as I was packing my things to leave campus.
SRN, these memories plus many more that I prefer to keep inside, will live with me for the rest of my life. Your physical being has now left us; however, we join your family, love ones, friends, and other members of the Class of 1971 to mourn this sad passage. But the God that we learn about at Our Lady of Fatima and the One we continue to serve promises us Eternal Life. I believe in this Promise. In the meantime, I am going to hold onto the memories until the day when all of us will be reunited: Wallking,
Sitting, Debating, Dancing, Clapping, Shouting, and Singing Songs of Zion around Heaven each and every day! What a
Reunion
that would be.
Until then, Swanzata, Rest in Peace!
Charles C. Newton, Jr.
Our Lady of
Fatima
High School
Class of 1971
----------------------------------------------------------------------------------------------
The Deputy Speaker, Dr. Felicia Williams-Lamptey, Officials and Members of the National Representative Council, NRC, NAMCAL-USA join the many sympathizers and well wishers in expressing our heartfelt condolences to Dr. James Elliott, Speaker of the NRC and Family for the sudden home-going of his brother, Swanzy who departed this world on April 26, 2004 in Monrovia, Liberia. May Light perpetual shine on him.
With deepest sympathy,
Writhers Nyenie-Wea
Secretary, NRC
Approved:
Dr. Felicia Williams-Lamptey
Throughout the bible it is said " we are like grass that is here and
then fades away". In Shake Speare, it is said " Man is like a walking
shadow, a poor player who struts and frets his life upon a stage is
heard no more. It is like a tale told by an idiot, full of sound and
fury, signifying Nothing".

Today family and friend remember Swanzy Elliott's love for life and his
accomplishments. During his transition, he gave himself, and he like
grass has faded away according to God's purpose and plan for his life.

We to someday will fade away. As we mourn and celebrate Swanzy, let us
all take time to reflect on our own lives and work a bit more in
fulfilling the purpose of God plan during our transition.

To be absent from the body is to be with the Lord.
We know he is resting peacefully

From
Roberta Brown and family
----------------------------------------------------------------------------------------------
Death, the phenomenon feared by humanity for centuries, has once again visited the Fourth Estate in Liberia. This time he has taken away one of the pillars of the Press Union, Hon. Swanzy R. N. Elliott. This sad and mournful event occurred on April 26, 2004 in Monrovia.

The news of the demise of Hon. Elliott devastated his family, relatives and friends. We all shed tears for his untimely homegoing. We all would miss him for his love, good deeds and respect he manifested during his earthly sojourn.

As a prolific writer and journalist, Hon. Elliott penned numerous articles in dozens of newspapers and magazines in Liberia and in Africa. I can recall when he was Deputy Minister of State for Public Affairs, he wrote, during the heat of the Liberian civil war, an analytical commentary entitled: "Thank God For ECOMOG". In that commentary, Hon. Elliott extolled the many sacrifices the Peace Keepers were making during their peace mission in Liberia. That article was a masterpiece! His writing was superb! His news reportage was highly professional.

Hon. Elliott served his country well in various capacities. He was dedicated and hardworking. He was a first-class civil servant and a respected deputy minister. He was unassuming, friendly and God-fearing. He was never boisterous. He always had something nice to say about his friends.

In the homegoing of Hon. Swanzy R. N. Elliott, former Member of the Press Union of Liberia, former Director of University Relations (UL), former Public Relations Manager-Liberia Petroleum Refining Corporation, former Special Assistant to the Managing Director/LPMC, former Deputy Minister of State for Public Affairs/IGNU, Liberia has lost a great statesman. His family will miss an affectionate husband, father, brother and uncle; his friends will always remember him for what he stood for -- honesty, respect, professionalism and humility.

May the soul of Hon. Swanzy R. N. Elliott rest in peace may light perpetual shine on him.
Robert Sayon Morris
Friend To Deceased
----------------------------------------------------------------------------------------------
A Tribute to Swanzy Elliott
Like a passing ship
One moment, it is here and the next it is not
It is given and then taken
Sometimes it takes a while, and sometimes "LIFE" is simply snuffed away
No matter what
We always seem to find ourselves in the midst of many questions
To which satisfactory answers never really seem to come
For Swanzy, the memories are pleasant
These memories will live on, and on, and on.....
How can we forget even if we tried
Good things and deeds are not easily forgotten
They become etched in our very essences
For Swanzy, it may seem like it is over
But then the real deal may have just begun
We grieve
But must also be thankful for the kind of individual we knew him to be
For the positive impact he made on society that impel us to see him as we do
It is this mark that is so important
Without realizing it, we all have learned something just because we knew him
He is still on his journey, just in another phase outside the physical realm
An even happier one than we can imagine
Our prayers are with him always
Harrington & Marinda Cummings
----------------------------------------------------------------------------------------------
It seems as if it was just yesterday when I was a young student assistant doing work-study in the department of public relations at the University of Liberia. At the time, Swanzy was the director. The three years spent under his mentorship would not only help shape my thinking and give me a wide perspective on issues, it would also gave me
the ability to see things from different angles. At the time I was also a journalism student and those years gave me the foundation for the future.

Swanzy was a true professional. He was very unassuming but stern in his beliefs.

What a great loss! You will truly be missed!

May his soul and the souls of all the faithful departed through the mercy of god rest in perfect peace!!!!!!

Felecia Badio-Merriam
----------------------------------------------------------------------------------------------